Would you love to learn how to meet women or how to meet men that you're attracted to?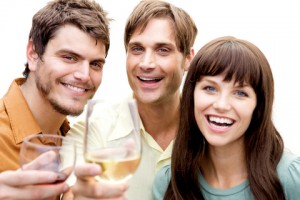 Being someone who others love to date has nothing to do with looking like a perfect "10", having an unlimited bank account, or having graduated from a great school. It's about giving off the signals people find attractive and it's a skill that anyone can improve. If you want to learn how to meet women or how to meet men successfully, then a Dating Wingman Session, where I go out with you (alone or with a group of people) is what you need!
HERE IS HOW DATING WINGMAN WORKS:
Before the Dating Wingman Session, I will send you some questions so that we are both clear on the type of person you want to meet and how I can be the best wingman for you.
I will provide you with my "Top 10 Tips For Meeting Exciting Strangers," which you can use to feel more confident during our session and in the future when you're meeting someone new.
We'll meet up at a target-rich environment (i.e. somewhere that has a lot of single people) and as your wingwoman I will help you to meet several new people. I will also give you personalized tips so you can feel confident flirting with these new people.
Throughout our outing as your dating wingman, I will help you learn how to meet men or how to meet women and how to better understand the messages (both verbal and non-verbal) you are giving off. I will also help you better understand the messages you are receiving from the people you meet. I will then help you assess what worked for you and suggest new ways of interacting so that you can meet even more attractive men or women in the future.
As a parting gift, I will also provide you with my fun and easy-to-read dating book, "Flirt For Fun & Meet THE ONE," in which I reveal the proven step-by-step process I've been using since 2007 to help my single clients successfully attract someone special.
DATING WINGMAN TESTIMONIALS
Tracey helps me to focus on what is most important to me, inspires me to go for it, and gives me customized and concrete action steps which make it happen. If you are looking to further your life, schedule a coaching session with her now!
Jodi Garner
Tracey is an incredible coach. She puts me at ease and I can truly be myself with her. She is supportive, skilled, and truly cares. I cannot put a price on the value I have received from Tracey's coaching; it has made a transformational difference in my life.
L.A. Braman
Reaching out to life coach expert – Tracey Steinberg is the single best decision I've made in a long long time. After hearing my woes, Tracey was immediately able to course correct. I was out dating women (i.e. women I wanted to date), again. I cannot say enough about Tracey and how good she is. Not only is Tracey very good at what she does, she is also a very good human being. Sign up to be mentored and coached by her and you will see real positive results. The experience is of tremendous value – life changing. Just do it and do it now!
G. Patel
It is not surprising that Tracey Steinberg is a life coach. In all of my experiences meeting new people, Tracey is one of the happiest people I have ever met. She is great at resolving people's issues and she knows how to help you find what or who you are looking for. Tracey has the ability to show you how to get what and who you want in your life!
Sherri Vamos
I truly appreciate that Tracey's commitment to my well-being and happiness is clear. As she encourages me to take risks and try new ideas to reach my goals, it's extremely reassuring that Tracey is ready to lend her strength and guidance to help me along my journey. I'm definitely excited about my present and new future because of my time with Tracey!
Robin Jenkins
I would HIGHLY recommend Tracey's service. I refer to Tracey as the female version of "Hitch" from the Will Smith movie in 2005. Tracey truly loves what she does and knows what she is talking about. Due to Tracey's excellent advice, my dating life has improved and I truly have to thank Tracey for it!!!!
C. Woodland