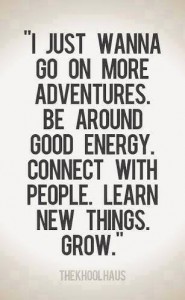 Happy New Year! I hope 2016 has been treating you very well so far. Did you make any New Year's resolutions for 2016? I used to be a big fan but they haven't really worked so well for me so I stopped. I recently learned that almost half of us make resolutions but only about 8% achieve them.
So, rather than spending precious time on resolutions I propose that we use that time to review 2015 in the most real way possible. Let's celebrate the good, learn from the bad, and focus on what will make us happy in 2016. I'll share my answer to each of the 5 questions and I'd love to hear your answers in the comments section below.
1. What happened in 2015 that warms your heart?
(Several of my clients got married and I am incredibly proud of each of them. It has been such an honor to help them go from frustrated and single to happy and married. I hope to celebrate many more weddings in 2016!)
2. What did you do that you're most proud of? How exactly did that benefit your life?
(We got a place in Los Angeles which has been a life goal of mine for many years. We've been exploring beautiful California and I've been able to spend a lot of more time outside in the sunshine.)
3. What was the most challenging part?
(I don't know as many people in LA as I do in NY and meeting people who I'd want to really get to know hasn't been as easy as I thought it would be. Fortunately, I've met some people who seem awesome and I look forward to deepening my relationships with them this year.)
4. Who caused problems/chaos for you in 2015?
(All 3 of my animals have gotten sick this year and we spent a lot of time at the veterinarian's office. I'm happy to say that with the help of my holistic veterinarian they're all doing well now and hopefully it is smooth sailing from here on out.)
5. Who has been the most helpful to you in 2015? Who are you most grateful to?
(I'm deeply grateful to have my husband, Sid, as my teammate in life. He has been there for me during the challenges and celebrated with me during the successes. 2015 has been one big adventure and I can't imagine my life without him. I'm super excited to see what exciting experiences 2016 brings for all of us!)
Now that I've shared my thoughts on 2015 and hopes for 2016, I'd love to hear your thoughts in the comment section below. Please tell me, how did 2015 treat you and what would make you happy in 2016? I'm excited to read your responses and CHEERS TO 2016, may it be everything you want it to be!
XOXO, Tracey