FLIRTING PARTIES!
Flirting Parties® are quite possibly the MOST fun way to spend a night!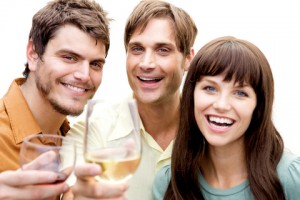 In addition to being a blast, everyone who attends this unique event is guaranteed to meet new people and walk away with valuable knowledge you can start using right away.
Tracey will begin the night by greeting you at the door and introducing you to other singles. Then, Tracey will share with everyone tips on how you can meet that interesting man or woman, how you can flirt with them in a sexy and confident way, and what you can do to ensure your exciting new friend wants to see you again. Of course Tracey shares all of this information in her playful way with lots of happy jokes thrown in to keep everyone smiling.
Since knowledge is useless if you don't use it, Tracey will then walk around the room and encourage everyone to engage with everyone else.  She'll also answer your questions, be your wing-woman, and offer you on-the-spot individualized flirting tips regarding what you are doing right and what you may want to try in the future.  Tracey is very much looking forward to being your wing-woman and helping you meet, flirt, and date people you are attracted to.  If you are not 100% comfortable meeting attractive single men or women, Flirting Parties were made for you!!!
The next event on December 10, 2013 will be a Match.com Stir Flirting Party Game Night in Los Angeles.  For more information please see the flyer below and if you have any questions, please EMAIL US.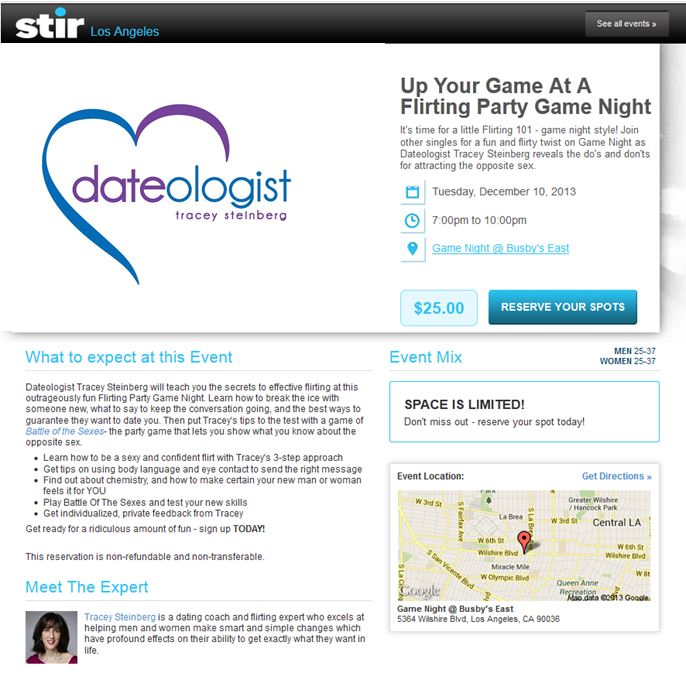 FLIRTING PARTY TESTIMONIALS
Tanya Dresner, of NY, NY said, "It was great receiving feedback on my interactions with men from an outsider. I know that I have a narrow field for what I look for but it was interesting to learn that by being open-minded and talking to men who are not normally what I look for could still help me gain what I ultimately want to achieve. Thanks again!"
Robin Jenkins of NY, NY said, "Working with Tracey was simply a lot of fun! She succeeded in getting me out of my comfort zone, helped me to feel much more positive, and made me more aware of how to engage with and respond to people I'm meeting. It was great having someone cheer me on, and who was focused on me and in my corner! I experienced a difference and have enjoyed my experiences since then much more."
Jeff P. of Hoboken, NJ recently said to me, " I had so much fun interacting with all sorts of women and it was truly eye opening to see how easy it was to approach women. It has been so much easier since our time together. It has only been a little while but I am now able to connect with women in ways I wasn't able to before. Thank you Tracey!"
Lisa B of Brooklyn, NY recently said to me, "I can't thank Tracey enough for helping me to live "in the moment." Once you showed me that by being lost in thought I was losing opportunities to meet men my whole world opened up. Lately I have been attracting more men than I ever thought possible and I wish I met you years ago. But I now know better than to harp on that!!!! You changed my life and I thank you from the bottom of my heart."