How can Dateologist® Tracey Steinberg Help YOU?
If you are an accomplished professional who is ready to meet someone special and have them fall in love with you Dateologist® Tracey Steinberg can help you.
Tracey is a dating expert who excels at helping men and women make smart and simple changes which have profound effects on their ability to get exactly what they want most in life. Dateologist Tracey Steinberg's expert dating coaching services have directly led to countless successful relationships and happy, confident clients in New York City (NYC),  Los Angeles (LA), across the USA and around the world.
As a dateologist, Tracey Steinberg is both a dating coach and a flirting expert.  Tracey has created her own unique "soup to nuts" expert dating coaching program which has successfully helped countless people enjoy the dating process, finally have the romantic relationship they used to dream about, and feel happier in their lives overall.  Dateologist Tracey Steinberg is happily married and has been trained as a life coach, has advanced training in dating coaching, she has a BA in psychology, and is a licensed attorney in New York (NY).
Tracey's Dating Coach and Flirting Expert Testimonials
"I have been working with Tracey for only a few weeks now and have made incredible progress. Her warm, positive, and nurturing manner makes our sessions productive and fun. With her support I have been meeting more men than ever and now may have finally met "The One". I am also making progress in my career and have improved my relationships with family and friends. I give her personal coaching program my highest recommendation without reservation."
Manju Rentala of New York, NY

"I truly appreciate that Tracey's commitment to my well-being and happiness is clear. She is always supportive, open and ensures that her coaching styles meet my needs. As she encourages me to take risks and try new ideas to reach my goals, it's extremely reassuring that Tracey is ready to lend her strength and guidance to help me along my journey. I'm definitely excited about my present and new future because of my time with Tracey!"
Robin Jenkins of New York, NY
"Eye contact, using their name, looking them in the eye, give them your full attention... you now have an instruction manual on how to find a partner!"

Ryan Seacrest said about Tracey Steinberg's advice on "On Air With Ryan Seacrest"
"It was an amazing result! I thought it would take 3 years to fix it, but she fix me up within 1 MONTH!! No one else out there will do like she does. I am living my dream right now, I am not pouting anymore! Her way of fixing up is nothing like the others. She tells me things I can do step by step from week to week. Just follow her. Trust her, she knows how to get you out there. Well worth money we can spend! She is the life teacher. Thank you ever so much! You are the biggest ANGEL in my life!!"

Tomoko Tyler, Syracuse, NY
"She can play the role of the Cyrano de Bergerac, whispering a witty compliment in a client's ear; be the playful wing woman who chats up the spare man at the table; or just observe and critique across a crowded bar."

Wall Street Journal wrote about Tracey Steinberg's coaching
"I met Tracey when I was at rock bottom of rock bottom. "Life" wasn't really going as I had planned it and things seemed quite overwhelming. I remember filling out all the handouts that she had passed onto me and breaking down all my goals. To this day, even though it was about a year ago that I had met her I am still using those handouts. To give an example of how they work, when I met Tracey one of my goals was to be in better health. I was a size 10 pushing a 12, I am now a size 2! And currently preparing for nationals where I'll be vying for the title of Ms.United States! yay! Thanks, Tracey!"

Nency Escamilla, Ms. New York United States 2011
"It is not surprising that Tracey Steinberg is a coach. In all of my experiences meeting new people, Tracey is one of the happiest people I have ever met. She is great at resolving people's issues and she knows how to help you find what or who you are looking for. Tracey is a good pick me up! Tracey has the ability to show you how to get what and who you want in your life. Ms. Tracey is a fantastic person and a very good listener. I Vote Yes To Tracey!"

Sherrie Vamos of Jersey City, NJ www.WomenGetDressed.com
"And with Steinberg at her side goading her, she suddenly picked a target and just went for it. Becky had achieved her goal; she'd put aside fear of rejection, fear of failure, fear of being boring, fear of being too short, tall, old, young, whatever, and had broken the ice with complete strangers."

CNN wrote about Tracey Steinberg's coaching
"Tracey helps me to focus on what is most important to me, inspires me to go for it, and gives me customized and concrete action steps which make it happen. If you are looking to further your life, take a coaching session with her now!"

Jodi Garner, New York, NY
"Tracey is very special friend who helped me align my priorities both personally and professionally. Tracey and I worked on several affirmations that reminded and motivated me to work on my priorities every day. The weekly tasks (assignments) were extremely helpful to communicate my feelings and ideas to the people I liked. After completing the course, I was able to successfully start a conversation and expand it based on the person's interest. I am thankful for teaching me things that made me happy."

Harsh Shinde, Jersey City, NJ
"After co-hosting our Learning Annex dating class together twice we were speaking as though we were reading the same script, except we did not have one. No one wanted to leave our class and I left knowing the women now had a new level of introspection and confidence to find that special someone."

David Groshen of www.DavidGroshen.com
"Tracey is an incredible coach. She puts me at ease and I can truly be myself with her. She is supportive, skilled, and truly cares. I look forward to our coaching sessions, knowing that every time we meet I get insights, help with challenges, and encouragement that helps me progress towards my goals. I cannot put a price on the value I have received from Tracey's coaching; it has made a transformational difference in my life."

L.A. Braman, Golden, Colorado
"Tracey was such an incredible speaker at Single in Stilettos. She gave single women the most amazing flirting tips & techniques. Even the most shy woman walked away feeling empowered and positive about trying out the new techniques to attract the right guy for her."

Suzanne K. Oshima, Founder of www.SingleInStilettos.com
"Tracey was an absolute delight to work with. Her flirting techniques made for a great interactive workshop for our HurryDaters."

Adele Testani, Co-Founder of www.HurryDate.com
"What made us at ease was her frank and flowing presentation. Tracey gave a special talk to my art students about online dating profile making and first impressions. Because of her ability to relate to our particular group and individual questions, we not only got excited about dating but also benefited from practical applications to present ourselves better in general."

Aki Sasamoto, Visual Arts Mentor, Columbia University
"I would HIGHLY recommend Tracey's service. I refer to Tracey as the female version of "Hitch" from the Will Smith movie in 2005. Tracey truly loves what she does and knows what she is talking about. Due to Tracey's excellent advice, my dating life has improved and I truly have to thank Tracey for it!!!!"

C. Woodland of New York, NY
"I got awesome feedback on your workshop. You were lovely to work with and all the participants seemed to enjoy themselves very much."
Caroline Kohles, Senior Director of Health and Wellness at www.jccmanhattan.org
"Tracey, it was lovely having you as our guest and the special interactive talkback after the "Miss Abigail" show was wonderful!"

Jennifer Tepper, Director of Promotions, Davenport Theatrical Enterprises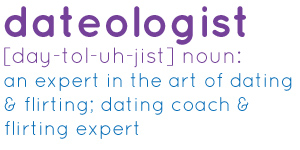 AS SEEN IN: